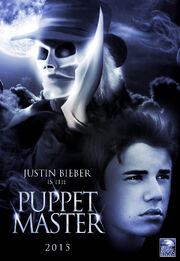 THE PUPPET MASTER
is a Horror/Fantasy 2015 remake of the
Puppet Master Films
and it is scheduled for a 2015 release.
Plot
PUPPETMASTER, the celebrated, albeit spotty, 25 year-old horror/fantasy-film franchise from Full Moon Features has long been rumored to receive a large-scale, state-of-the-art remake. Today, Full Moon is finally ready to officially announce that the remake has in fact recently begun pre-production in partnership with a major independent studio (to be announced soon) and has already locked a huge—and unlikely—casting coup.
The non-puppet male lead of the big budget redox will be none other than pop star, and notorious media darling, Justin Bieber. Bieber will play the young Andre Toulon, whose experiments with magic and marionettes yield lethal results.
"I couldn't be more thrilled to have Justin on board," says Full Moon honcho Charles Band. "The role of Toulon is iconic, horror cinema's original tortured artist and it was important we found an actor who could really sell the character during the early stages of his journey. Toulon is a young man who is in fact wise beyond his years and has seen it all. With all Justin has endured as of late in the press and elsewhere, we knew he would bring an authentic gravitas to the role that many other performers could not."
Ad blocker interference detected!
Wikia is a free-to-use site that makes money from advertising. We have a modified experience for viewers using ad blockers

Wikia is not accessible if you've made further modifications. Remove the custom ad blocker rule(s) and the page will load as expected.