Puppet Master: Axis Termination

Puppet Master X theatrical poster
Vital statistics
Directed by
Charles Band
Produced by
Charles Band
Written by
Charles Band
Starring
Kip Canyon, Jean Louise O'Sullivan
Music by
Cinematography
Edited by
Running time
Release date(s)
September, 2016
Puppet Master: Axis Termination
is an upcoming 2016 Puppet Master movie which continues where
Puppet Master X: Axis Rising
left off. Not much is known other than it will be the last of the Axis movies which was announced by Charles Band in September 2016. The movie will begin filming in February 2016 and will be directed by Charles Band.
Plot:
Set in Berlin during World War II, "Axis Termination" concludes the Axis Trilogy, which began with "Puppet Master: Axis of Evil" and continued with "Axis Rising".
Characters
Puppets
Trivia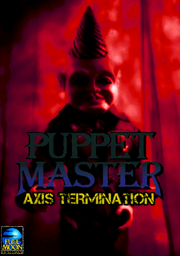 Charles Band teamed up with the El Rey Network TV station to run a contest where the winner could star in the movie and be killed by the puppets.
Charles Band promises this will be the bloodiest/goriest entry in the series.
This movie will be the first in the series to be made via crowdfunding.
Kip Canyon and Jean Louise O'Sullivan will reprise their roles as Danny & Beth from 'Axis Rising'.
Torch will make his return, he was last seen in Puppet Master 5. Although it is unknown how he will fit into the story, Charles Band commented, "we are aware of the continuity". This will be his first appearance chronologically.
Ad blocker interference detected!
Wikia is a free-to-use site that makes money from advertising. We have a modified experience for viewers using ad blockers

Wikia is not accessible if you've made further modifications. Remove the custom ad blocker rule(s) and the page will load as expected.