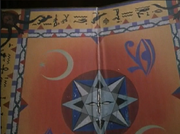 The
Ouija Board
is an Egyptian communication device to contact
Sutekh
and his
Watchers
in the
Underworld
.
Rick Myers
and
Cameron
find it in
Andre Toulon
's
trunk
. It is unknown if it belonged to Toulon or if someone had placed it there.
Lauren
and Cameron use it to conduct a seance to see if they can find out the secret behind Toulon's puppets but Lauren (who is a psychic) gets possessed by Sutekh and summons two of his
Totems
from a magical pyramid in the center of the board.
Appearances
Edit
Puppet Master 5: The Final Chapter
Puppet Master: The Legacy (Archive footage)
Ad blocker interference detected!
Wikia is a free-to-use site that makes money from advertising. We have a modified experience for viewers using ad blockers

Wikia is not accessible if you've made further modifications. Remove the custom ad blocker rule(s) and the page will load as expected.