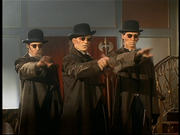 The Mummy Servents
are the slaves of
Sutekh
. They were sented to Paris, France., to find the wizard who has stolen the secret of life, named
Afzel
. Then they went to find
Andre Toulon
when they relized that Afzel gave the magic to him. They went to
Elsa
's home, killed her parents, the guards and captured Elsa and used her as bait to capture Andre Toulon.
1st Mummy – Thrown out of the train window by young Andre' Toulon
2nd Mummy – Attacked by the Retro-Puppets
3rd Mummy – Chandeliered by Retro-6-Shooter
Appearence
Edit
Ad blocker interference detected!
Wikia is a free-to-use site that makes money from advertising. We have a modified experience for viewers using ad blockers

Wikia is not accessible if you've made further modifications. Remove the custom ad blocker rule(s) and the page will load as expected.