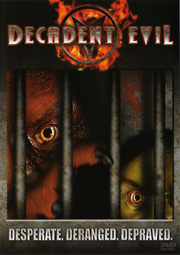 Decadent Evil
(
known by the slightly reworked title of Decadent Evil Dead in the UK
), is a 2005 vampire film, produced and directed by
Charles Band
under his Wizard Entertainment banner that year on June 25. The film was shot in and around Los Angeles, California.
The films stars Phil Fondacaro, Debra Mayer, Jill Michelle, Daniel Lennox, Hazel Dean, and Raelyn Hennessee. Porn actress Harmony Rose has a small role as a hooker.
Plot
A fallen foot tall Homunculus called Marvin (a part human/part reptile creature) is imprisoned in a birdcage by a vengeful lover who is bidding to become the world's most powerful vampire.
Footage from Vampire Journals (a spin off from Subspecies) is used at the beginning of the movie to explain how Morella, the vampire Queen, left her bloodline behind in Europe. The movie ends with Morella transformed into a Homunculus and having sex in the cage with Marvin.
Reception
The movie was released to mostly negative reviews. Despite this, a figure of the creature 'Marvin' was produced; a growing trend for Charles Band and Full Moon.
Sequel
Decadent Evil II followed in 2007. The movie reunited Jill Michelle with Danniel Lennox, although Ivan Burroughs was played by Ricardo Gil. Fondacaro does, however, appear as Ivan Burroughs in Evil Bong.
Ad blocker interference detected!
Wikia is a free-to-use site that makes money from advertising. We have a modified experience for viewers using ad blockers

Wikia is not accessible if you've made further modifications. Remove the custom ad blocker rule(s) and the page will load as expected.