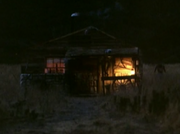 The Cabin
is a small house owned by
Martha
and
Mathew
. The cabin is a short distance from
Bodega Bay Inn
. Even though Martha and Mathew live so close to the inn, they both hate it and claim it is haunted and Satanic. There were once pigs and a mule at the cabin but they were slaughtered by
Andre Toulon
's puppets who were gathering animal brains to help in Toulon's experiments.
After the animal deaths the two owners of the cabin put up an electric fence. When the animal brains were not good enough, Toulon ordered Torch, Blade and Leech Woman back to the cabin to kill the two residents and bring back their brains. Blade disarms the electric fence with his hook and knife and the three enter the cabin. Leech Woman extracts Mathew's brain with a small knife as he sleeps and Martha grabs her and puts her into a furnace, killing her. Blade attacks Martha's leg with his knife and she tries to shoot him with her shotgun but Torch enters the cabin and sets her ablaze. Blade then cuts out her cooked brain and brings it back to Toulon who tells them that the brain is useless and cannot be used in his experiments as it has been burnt.
Appearances
Edit
Ad blocker interference detected!
Wikia is a free-to-use site that makes money from advertising. We have a modified experience for viewers using ad blockers

Wikia is not accessible if you've made further modifications. Remove the custom ad blocker rule(s) and the page will load as expected.