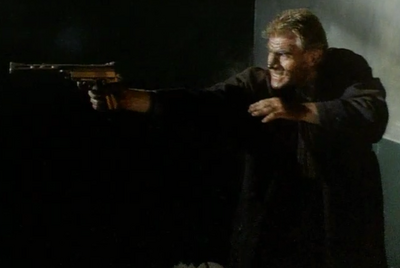 The 596.8 Ruger is a custom handgun belonging to
Brick Bardo
. It is recognized as the most powerful gun in the galexy. It discharges a burst of blue'white energy which exlpodes the target on impact. Its ammunition is unknown but by the second movie Brick states he's running low on it. Bardo has a magnetic implant in his palm which allows him to draw the gun to his hand at will.
He has killed numerous with this weapon including:
Cally and Fisher(henchmen)
Appearances
Ad blocker interference detected!
Wikia is a free-to-use site that makes money from advertising. We have a modified experience for viewers using ad blockers

Wikia is not accessible if you've made further modifications. Remove the custom ad blocker rule(s) and the page will load as expected.